Threesome in the office
A guy is leaning with his behind against a desk while a girl is sucking his dick. A second girl is on the floor, licking the first girls pussy. The first girl lays down on the copying machine to get fucked by the guy.
A wild fuck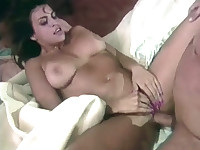 A couple is laying on the bed, caressing each other. A little later the guy has taken his clothes off and the girl has moved in between his legs in order to suck his dick. Then he fucks her hard, making her scream with pleasure until he comes on her hairy pussy.
Victim of Love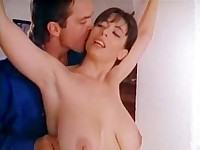 For anyone who's ever struggled with an affair, Paul Thomas has a novel idea: merge. As in making the mistress a part of the relationship. Of course it helps if the wife is Christy Canyon and the mistress is Jamie Summers. We'll let you decide who the victims are.
Horny repair man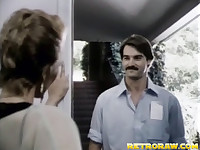 In this vintage movie a repair man visits the house of a middle aged woman to have a look at her telephone. The woman - in black stockings - is in a horny mood and tries to seduce him. Soon enough he is fucking her hairy cunt as deep as he can!
* T O P L I S T * T O P L I S T *