Threesome in the office
A guy is leaning with his behind against a desk while a girl is sucking his dick. A second girl is on the floor, licking the first girls pussy. The first girl lays down on the copying machine to get fucked by the guy.
A wild fuck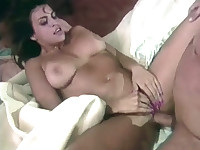 A couple is laying on the bed, caressing each other. A little later the guy has taken his clothes off and the girl has moved in between his legs in order to suck his dick. Then he fucks her hard, making her scream with pleasure until he comes on her hairy pussy.
* T O P L I S T * T O P L I S T *